Add some luxury to your kitchen
Flooring is an important part of any kitchen and to start with the choice of which to choose as part of your new kitchen can seem fairly simple – tile, vinyl or possibly a laminate/wood flooring.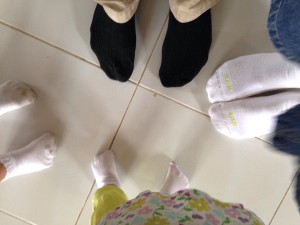 Each though has its problems – tile feels cold to walk on and any glass or plate dropped on it will probably smash, vinyl sheet can easily ruck up and tear when appliances are dragged over it, and laminate is a floating floor (meaning that it is not stuck down) so in the event of an appliance flooding the floor, the water will get underneath causing mould, buckling of the material and possibly an insurance claim.
At Redwood, while we are happy to work with whatever floor covering our customers select, we do also direct attention to a flooring product category called Luxury Vinyl Tile (LVT) which solves many of these problems – feels warmer to walk on than tile and does not have grout lines which discolour over time, is stuck down so wont ruck up or allow water to get underneath, has a maintainable surface so scratches can be polished out, and it's easy to replace a whole tile if it were to become damaged.
Available in a huge range of patterns and colours, luxury vinyl can also now mimic all kinds of surfaces, from wood and stone to mosaics and metallics. As the images are digitally printed onto the vinyl, the effects are surprisingly realistic, too.
Of the various manufacturers of LVT, we have selected Karndean for it's wide choice of finishes and Camaro by Polyflor for it's excellent pricing to be part of our carefully chosen product portfolio.
So why make sure that the floor is part of the kitchen design?  Well, apart from saving time because the preparation and installation of the floor are integrated into the kitchen fitting process, we can show you how the whole room will look in our ArtiCAD 3D kitchen software and make sure that you have samples of all the important pieces of your kitchen for when you go paint and blind shopping.
To find out how we can add some luxury to your kitchen design, click for more details…